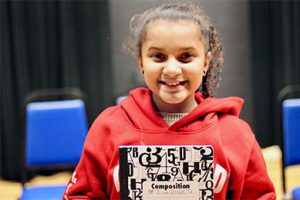 Workshops! is Girls Rock Roanoke's year-round program. Each month we offer a workshop open to members of our community. In January 2017, we offered a workshop entitled "Girl Sessions; the art of poetry, self-expression, creating space" with local Roanoke poet Ashley Rhame. And in February 2017 we offered a workshop on Consent led by psychologist Debra Marks.
Future 2017 workshops include: Intro to Ukulele, Intro to Drums, Intro to Guitar, Intro to Bass, Communicating with Confidence, Movement, Self-Care, Healthy Relationships, Mask-making, and Wilderness Survival. See our Facebook page for dates.
Workshops! are held at Theatre 3 in the Dumas Center for the Performing Arts, 108 First St. NW, Roanoke, VA, 24016. Cost: Sliding Scale, $5 – $20. For more information contact our Executive Director.
---