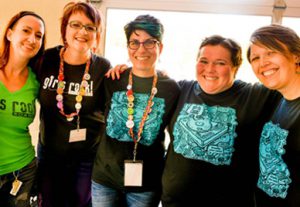 Girls Rock Roanoke relies on diverse and motivated volunteers—from women and gender non-binary performers and band managers to instrument teachers, sound engineers, workshop leaders, and teen mentors—to make our camp happen.
If you'd like to become part of our crew, download the Volunteer Fact Sheet 2019 so that you can familiarize yourself with our program needs.
You do not need musical experience to volunteer for Girls Rock. Repeat. YOU DO NOT HAVE TO KNOW A THING ABOUT MUSIC TO VOLUNTEER FOR GIRLS ROCK ROANOKE. All you need is a passion for helping girls and gender non-conforming youth feel empowered and confident.